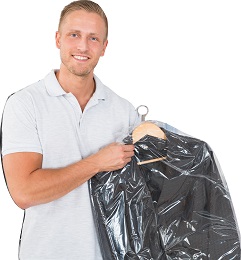 About Us
At YOUR STORE NAME Cleaners, we are passionate about what we do. Local to for the past 10 years, and family owned and operated, we are invested in our community. We are pleased to provide the best dry cleaning services we can to you and take great pride in being consistently voted "Best Dry Cleaner" in the area. We love making a personal connection with our customers, and we love making sure you look your best. We strive to make getting your garments cleaned as easy and convenient for our customers as possible. With locations throughout the metro and a fleet of delivery vans offering free home and office pick-up and delivery, we can accommodate most any situation.

The owner will say, "we strive to be on the leading edge, not the bleeding edge of technology." YOUR STORE NAME Cleaners is 100% eco-friendly cleaner right down to our diesel trucks. We utilize GreenEarth and System K4, two of the newest and most effective eco-friendly solvents in our industry. We were recently presented with The Sustainability Award for Textile Cleaning at the Global Best Practices Awards for the Professional Textile Care industry in Frankfurt. The awards functions as a platform to highlight best practices in PTC and demonstrate the industry's focus on a high standard of quality, new business models, innovation and sustainability.

By being members of Leading Cleaners Internationale, The Dry Cleaning and Laundry Institute and the Association of Wedding Gown Specialists, we can assure you that if it is happening in the world of dry cleaning and laundry, we are on top of it.

We are also involved with multiple organizations in the area. The company assists the Women's Center for Advancement career closet, donating "ready to work" items for women in need. We've also partnered with the Humane Society for Fetch with Fashion to allow our customers to drop off their old towels and blankets which we clean and deliver to the Humane Society to use in animal bedding, baths and more.
---